The ESNcard is the membership card of the Erasmus Student Network.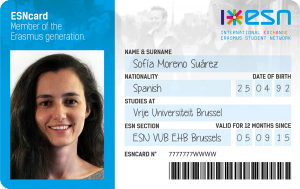 It is a proof of membership in an ESN section and so indirectly of the ESN Network.
The aim of this project is to inform exchange students of the best student deals and offer cheaper services to exchange students when they are abroad. As it is not easy for students to figure out the price/quality comparison and there are multiple extra costs connected to a period abroad, ESN wants to help this, by offering students cheaper opportunities. The ESNcard is therefore also used as a discount card in many cities and countries around Europe.
You can visit the partner page of the website of your local ESN section to find more information or see all discounts that are registered at the international platform ESNcard.org.
The ESNcard is valid for 12 months and only valid with a photo and correct personal data. The card is strictly personal and cannot be used by somebody else than the card holder.
Who can get the ESNcard?
You can get the ESNcard, if you belong to one of the following groups:
You have been an international student (e.g Erasmus or any other exchange programme)
You are currently an international student
You are a member of an ESN section
How can you get the ESNcard?
The ESNcard can be obtained exclusively from your ESN local section. Please contact your local section to get the ESNcard. Sections are kindly asked to contact their National Representative to get more information about how to order ESN Cards.