WHAT IS RESPONSIBLE PARTY?
Born in 2009, through a collaboration between ESN and Pernod Ricard, from the idea that events are even better if they are enjoyed responsibly, Responsible Party is a prevention programme aimed at reducing binge drinking amongst young adults.
 It is about promoting a balanced lifestyle and empowering young adults to decide for themselves. At this date, the programme is implemented in 33 countries and has reached more than +470 000 students.
THE AIMS 
The project has two main goals:
o Raise awareness among young adults about the risk of overconsumption of alcohol
o Reduce alcohol-related harm during student events
HOW DOES IT WORK?
o Responsible Party can be activated during any normal party. It is not the theme, but rather the label that provides a safer and more responsible environment for students. Is a non-branded programme.
o ESN volunteers serve as ambassadors of the programme. Through the distribution of informative and responsible material (leaflets, gadgets, condoms, water, etc.), they inform their peers how to make good decisions and enjoy alcoholic beverages responsibly. Ensuring the event runs smoothly!
o Responsible Party empowers party-goers as well as its Ambassadors so they can actively engineer memorable events. Working with a peer to peer approach, we are never killjoy but cool and friendly people acting to MAKE GOOD TIMES UNFORGETTABLE. Creating good times where different personalities meet and lasting international friendships get started - that's what we're about.
AND IT WORKS!  
Responsible Party was scientifically and independently evaluated by the French Foundation for Research on Alcohology (FRA) between 2015 and 2017.
Students gave their feedback through an online survey based upon validated questionnaires (such as AUDIT, World Health Organisation) considered as leading throughout the scientific community.
The questionnaire was brought to their attention at the beginning and at the end of the exchange period (or the academic year for local students) and was aimed at observing their patterns of alcohol consumption and measuring the effect of their exposure to the Responsible Party programme.
Some results:
88.8% consider it useful
61.4% reported a modification of their alcohol-related behaviours
74.5% considered that distribution of water and responsible drinking message as clear and useful
The final report of the evaluation
RESPONSIBLE PARTY GOES DIGITAL!
During the COVID-19 pandemic Responsible Party extended its activities to both on-the-field activations and impactful digital campaigns.
o #SharingGoodVibes
Responsible Party launched its first digital prevention campaign, "Sharing Good Vibes", at the start of the pandemic in April 2020, to continue raising awareness at a difficult time. Over a six-month period, the campaign reached 6 million people in 30 countries.
o Drink More… Water, a great success!
Due to the success of Sharing Good Vibes and that bars and nightclubs started to re-open after the lockdown, the Responsible Party launched in July 2021, its new bold, true, courageous campaign: Drink More... Water. This campaign focuses on one single weapon, which is infallible and universal: continuous hydration!
It is based on Responsible Party's main drivers: to persuade young adults that there is no fun in excessive drinking and to empower them to make the right choices for themselves thanks to a peer-to-peer approach, instead of lecturing them on the dangers of overconsumption. Moreover, water has always been of the core elements of the programme as it is one of the ways of reducing harmful drinking. With on clear and simple call to action, we can continue to reach more and more young adults and make an impact in fighting binge drinking.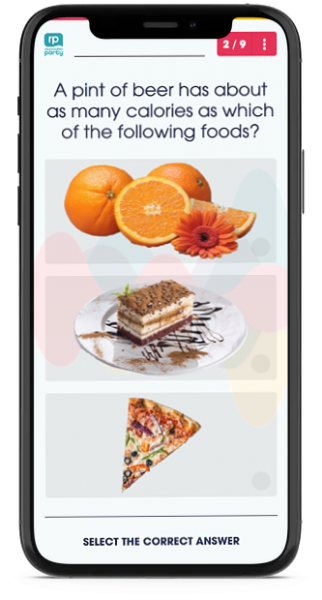 Ready to test your knowledge and learn more about healthy habits?
 Check out the Responsible Party E-learning!